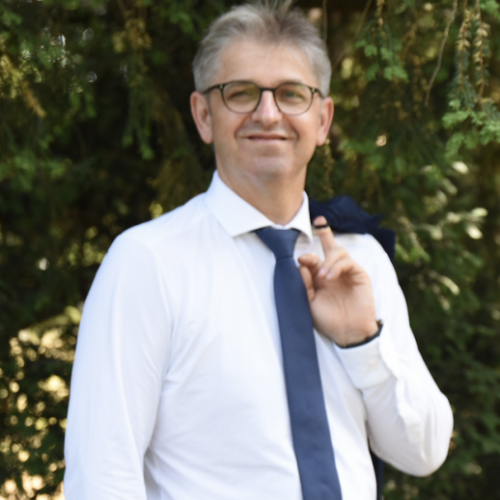 Dr. Matthias Krüger
M.D., Health Economist, Clinical Risk Manager (DIOcert), Surgeon in Visceral and Special Visceral Surgery, Proctology & Emergency Medicine
Digital Transformation of Healthcare
Johannesstift Diakonie
Profile
I studied sports science, German language and literature, medicine and health economics. For more than 15 years, I have been working in clinical and outpatient healthcare as a physician, surgeon, clinical risk manager, external specialist auditor and health economist, and in the last few years I have also had management responsibility here as head physician and medical director. I am also a member of the executive committee and head the department for economisation, future and digitalisation in surgery of the Professional Association of German Surgeons (Berufsverband der Deutschen Chirurgen e.V. (BDC).
The implementation of digital processes and tools in medical care reality and their development is very close to my heart. I experience the digital transformation of healthcare, or rather the lack of transformation, on a daily basis in my practical work. We need to make more of an effort here. In many cases, it is not the lack of will for digital transformation, but the still prevailing "silo thinking" and the loss aversion of many involved. People and their environment as well as their organisation must be at the centre of these efforts. A digital transformation is only possible if we rethink processes and try to digitalise them in the sense of lean management. The digital transformation of bad processes is bound to fail and promotes frustration among those involved. It succeeds when we link B2B and B2C and understand them as a unit in the sense of B2B2C.
I am firmly convinced that this process can only succeed together. It starts with the people and ends with them. I am currently expanding my leadership skills through a business coaching course at Quadriga University Berlin. Leadership means responsibility and participation. We cannot delegate or digitalise this responsibility.
With my clinical-medical expertise and experience in health economics, I would like to actively and positively shape this integrative, interdisciplinary and multiprofessional process as a medical consultant. From practice, for practice.
My guiding principles include: Rethinking medicine, shaping the future.
I look forward to the interesting projects, encounters and exchanges in The Health Captains Club Yours, Matthias Krüger.